Who was Sir Jimmy Murphy: Manchester United honor youth team pioneer with a statue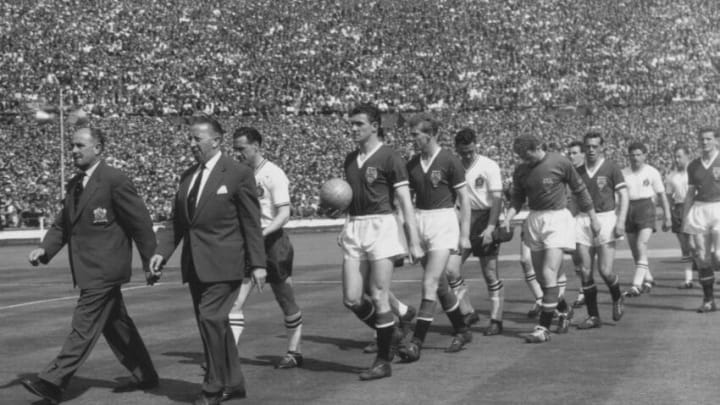 The Manchester United Football team is led out on to the field by Acting-Manager Jimmy Murphy and team captain Bill Foulkes together with Bolton Wanderers Manager Bill Ridding and team captain Nat Lofthouse before the kick off of their FA Cup Final match on 3rd May 1958 at Wembley Stadium, London, United Kingdom. Bolton Wanderers won the game 2 -0 . (Photo by Evening Standard/Hulton Archive/Getty Images). /
Manchester United and their youth team. This relationship is something special. Whether it is "The Busby Babes", the "Class of '92", or the current team powered by Marcus Rashford, Manchester United is a club which puts particular emphasis on producing "one of their own". Sir Jimmy Murphy, who the club is finally honouring with a statue outside Stretford End, pioneered this relationship.
Who is Sir Jimmy Murphy?
Before the arrival of the Busby Babes, large clubs usually bought players from other clubs instead of developing their own.
However, when Sir Matt Busby took over the club in 1945, his first signing was not a player. Instead, he signed a certain Jimmy Murphy, who had caught his eye as he saw this young man give a rousing speech about football to a band of troops during the Second World War.
From 1946 to 1955,  he was the "Chief Coach" at the club, eventually being promoted to the post of Assistant Manager.
Sir Jimmy Murphy's remit was to coach and develop the young talent in Manchester United's ranks. In many ways, he was the architect of the club's first golden generation- The Busby Babes.
The likes of Bobby Charlton and Duncan Edwards broke through the first team under his tutelage. Having had a long playing career for West Bromwich Albion, and capped by Wales 15 times, Jimmy Murphy had found his calling. However, his job was soon to change due to unfortunate circumstances.
Sir Jimmy Murphy during the Munich Air Disaster
Munich Air Disaster is an event that is impossible to forget for Manchester United fans, and the football world at large. A promising generation of footballers was wiped out in an instant as the challenge of rebuilding the club lay ahead of Sir Matt Busby.
Sir Jimmy Murphy was fortuitously absent from that cursed flight. While the team was preparing to take off, Sir Jimmy Murphy was away managing Wales in a World Cup Qualifying fixture.
His abilities as a proper club man came to the fore when, in the absence of Sir Matt Busby who was recovering from his injuries after the disaster, he stepped in as interim caretaker manager.
In his short spell, he led the club to the 1958 FA Cup
Final. It was a moment of joy for a club that had just suffered its toughest gut punch just a few months ago.
Along with Sir Matt Busby, he led United to the famous Champions Cup win in 1968, just a decade after the team had to be rebuilt from scratch due to the Munich Air Disaster.
Sir Jimmy Murphy- Manchester United through and through
Sir Jimmy Murphy was offered the chance to manage giants like Brazil, Juventus, and Arsenal. However, he always stuck it out at Manchester United, away from the limelight, happy to develop the club's future in the background.
After Sir Matt Busby returned, he reverted to the role of Assistant Manager, the position he held till 1971. In what became a theme of his career, he started doing scouting work for the club when the club needed that from him instead. True to form, he excelled at that too from 1973 onwards.
Posthumous accolades and a lasting legacy
Sir Jimmy Murphy passed away due to a burst aorta on November 14, 1989. Since his death, the club has paid him tribute through various gestures. Every year, the best young player in youth football is awarded the "Jimmy Murphy Young Player of the Year" award, as a recognition of the pioneering efforts in youth football led by Sir Jimmy Murphy.
There is a Jimmy Murphy Centre set up at Manchester United's training ground where the superstars of tomorrow are nurtured, just as Sir Jimmy Murphy would have wanted.
The statue outside the Stretford End marks the biggest tribute yet. His legacy has been immortalised at the club, and nobody would question that he deserves it and more.