Anthony Martial rumored to transfer away from Manchester United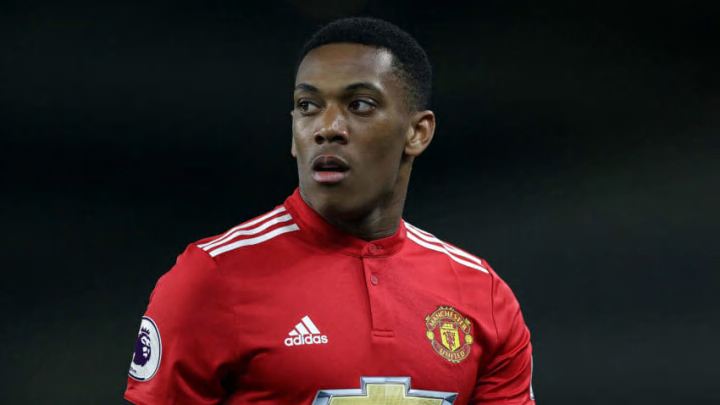 BRIGHTON, ENGLAND - MAY 04: Anthony Martial of Manchester United in action during the Premier League match between Brighton and Hove Albion and Manchester United at Amex Stadium on May 4, 2018 in Brighton, England. (Photo by Bryn Lennon/Getty Images) /
After a great start to the 2017/18 season, Anthony Martial has fell second to Alexis Sanchez. According to Metro UK, the star will leave Manchester United.
Anthony Martial had a great start to the 2017/8 season, as he looked to be a valuable asset to the Manchester United squad. Furthermore, the French star scored numerous times to start the season. In fact, Martial has a total of 9 goals and 5 assists, and the season looked bright with the Frenchman on the left wing.
However, the winter transfer window proved Martial to fall into the second team. The arrival of Alexis Sanchez meant that Martial would lose playing time. With this, Martial opened options away from Manchester United. In recent news, Martial's transfer to Juventus will happen in the near future.
The French star was linked with multiple clubs throughout the season, but Juventus appeared to be the early favorite landing spot. Manchester United has not stated the price tag, as the club only approved his request to leave the club. Mourinho aimed to stack the squad, but it appears as if there is not enough room for two exceptionally good wingers.
With the departure of Anthony Martial, the pressure lies on Alexis Sanchez to own the wing. Additionally, Manchester United will lack depth in the wing with the loss of the Frenchman.
Marcus Rashford is a decent back up for the Chilean winger, but his performances are erratic. He had a great performance against a great Liverpool team. However, Mourinho will grow to miss Martial as a back, as his performances are consistent.
Ultimately, Alexis Sanchez needs to channel his goal scoring abilities he had at Arsenal only last season. Yes, Mourinho's system proves to be difficult to learn, but he needs more time. Once he learns the system, he will be a perpetual goal scorer for United.
Next: Manchester United agree to 80 million euro price tag for Milinkovic-Savic
Manchester United will begin to feel the affects of losing a talent such as Martial. The French star came to United and made a big splash against Liverpool, and he surely made plenty of memories since then. For instance, Martial had a beautiful curler against Everton, and that is one of many memories that fans will take them as he departs from Manchester United.